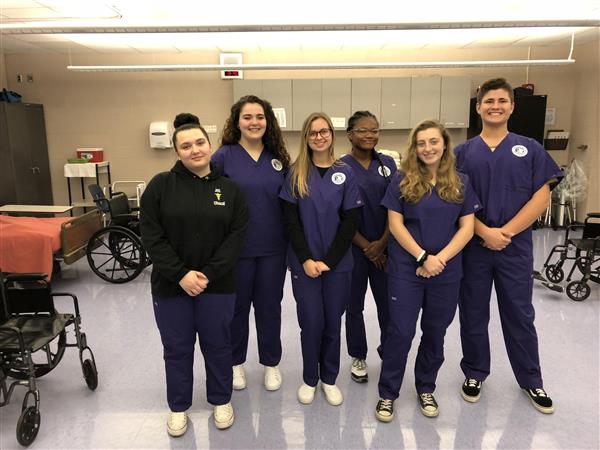 Phone: 3308373501
Email:
Degrees and Certifications:
RN,MSN
Mrs.

Ann Capuano

Welcome to Clinical Healthcare Services.

About Me

This is my 7th year as a teacher at Jackson High School. I had the great privilege of starting the Clinical Healthcare Service program in the school year of 2010-2011. What fun! I have 30+ years in the medical field. I started my career as a nursing assistant at a rural hospital in Bellevue Ohio. I enjoyed helping others so I decided to go back to school for my LPN at the Sandusky School of Practical Nursing. Seeing the advancement in nursing I again went back to school at Providence Hospital School of Nursing in Sandusky, Ohio and received my RN. I decided I wanted to try my hand at nursing management so I attended Lourdes University in Sylvania Ohio where I received my Bachelors of Science in Nursing (BSN). Well, eager for more education I enrolled at the University of Akron where I received my Masters in Nursing Administration and finally a Career and Technical teaching license from Kent State. I have always had a great love and passion for medicine and caring for others. I grew up in rural Bellevue Ohio. My husband and I have 5 children and 8 grandchildren and enjoy all our family times together.

I am looking forward to a new and exciting school year and working with all of the students.

Curriculum This is a two-year program

Junior Year - 3 credits Principles of Allied Health Medicine - Students will apply knowledge and clinical skills necessary to collect data, plan, provide, and evaluate care to patients in varied healthcare settings. Students will apply first aid principles and techniques needed for response to choking, cardiopulmonary resuscitation, and other life-threatening emergencies. Emphasis will be placed on regulatory compliance, patient safety, pathophysiology, and medical interventions.

Nutrition and Wellness - Students will increase their knowledge of comprehensive health and wellness. Students will be able to identify the components of fitness and.communicate the relationship between physical fitness, physical performance, injury prevention, and nutritional intake. Students will evaluate an individual's state of nutrition based upon the impact of personal choices and social, scientific, psychological and environmental influences.

Medical Terminology - This course focuses on the applications of the rules for constructing and defining medical terms with an emphasis on building a working medical vocabulary. Topics include using the appropriate abbreviations and symbols for anatomical, physiological and pathological classifications and the associated medical specialties and procedures.

Senior Year - 3 credits

Patient Centered Care - Students will apply psychomotor nursing skills needed to assist individuals in meeting basic human needs. Students will implement interventions following a nursing assistant plan of care. Students will collect pa tient's vital signs including temperature, pulse rate, respiration rate, and blood pressure. Students will focus on infection prevention, universal precautions, proper patient identification, specimen acquisition, handling, and processing. Additionally, students will observe patients' physical, mental, and emotional con ditions and document any change.

Pharmacology - Students will apply the principles of pharmacology in order to read, interpret and dispense prescriptions. They will learn how medications are classified and administered. Students will study the impact of drugs on different systems of the body, interaction of drugs, side effects and effectiveness in rela tion to dosages. The mitigation of hazards are emphasized.