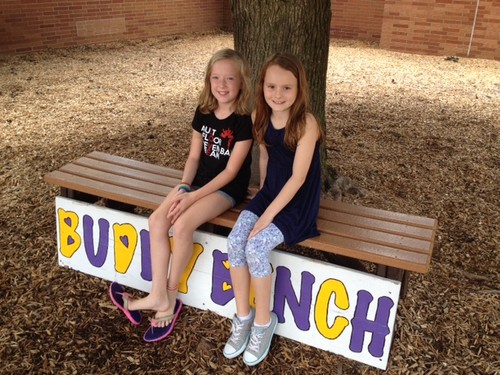 The Buddy Bench
Did you know that SAUDER Elementary has a Buddy Bench?




What is it?

The buddy bench is a simple idea to eliminate loneliness and foster friendship on the playground. Our goal is to spread the message of inclusion and kindness every day.




How does it work?

If a student is feeling lonely or is in need of someone to play with, he/she is encouraged to sit on the buddy bench. Students in all grade levels have been encouraged to include anyone they see on the bench. Mrs. Cornell visited each classroom this year to review the purpose of the bench, how to use it (and how NOT to use it), and also to role play scenarios with students so they know exactly what to do when someone is on the bench.




Where did Mrs. Cornell get the idea?

A few years ago Mrs. Cornell read an article on the Huffington Post about a boy named Christian who brought the buddy bench to the United States. When Christian was in first grade, there was a possibility that his family was going to move to Germany. When they were looking at a website for a school overseas, Christian saw picture of a special bench on the playground. He asked about it and liked what he heard. He thought it would be a really great thing to have on the playground at his current school, Roundtown Elementary. He knew that there were some kids who felt lonely at recess and he thought this would put an end to that! He told his teacher and his principal about it and they thought it was a great idea. In the end, Christian didn't move to Germany, so he was able to stay at Roundtown and bring the bench to his school!




For more information, visit: http://buddybench.org/what-is-the-buddy-bench/




Our own buddy bench was designed and painted by an artistic Sauder parent who loved the idea!