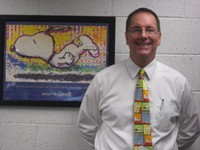 Principal's Message
William Hayden graduated from Kent State University in 1984 with a Bachelors of Science degree in Elementary Education. He then continued his education and received his masters at the College of Mount St. Joseph in 1989. Mr. Hayden earned his administrative license at Ashland University in 2008.

Mr. Hayden began his teaching career in 1984 at Sauder Elementary and then moved to Strausser Elementary when it opened. He taught second grade for fourteen years and then taught fourth grade for twelve years. He became Dean of Students at Strausser in 2010.

Mr. Hayden worked at Central Office as Energy Education Specialist before being appointed Principal at Amherst Elementary in 2012.

William Hayden is married to Annette and has two children. He resides in Perry Township.