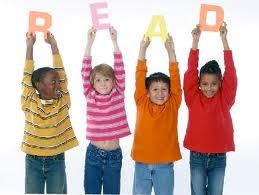 Reading Recovery Parents
If your child is currently in Reading Recovery, the information below will help you learn more about this reading intervention. Please contact me at ser2jc@jackson.sparcc.org if you have any questions about Reading Recovery or about your child's lessons. I'd be happy to talk to you.




Reading Recovery is…

For first graders who struggle with early reading and writing
Individual 30-minute lessons
Free (no cost to families)
Research-based
Short-term, just 12 to 20 weeks (30 to 50 hours)


Reading Recovery is not…

Special education
A replacement for classroom teaching


Reading Recovery works because…

Highly trained teachers work intensively, with individual children each school day
Lessons are planned to build on the knowledge and strengths of each child


Families can help by…

Being sure your child's school attendance is as regular as possible
Listening to your child read books sent home by the Reading Recovery teacher
Making reading time positive, short, and enjoyable
Returning books each day so the teacher can send home new books




Reading Recovery Lesson Objective
The objective of Reading Recovery lessons is to promote accelerated learning so that students catch up to their peers, close the achievement gap as quickly as possible, and can benefit from classroom instruction without supplemental help.


Individually Designed Lessons
Daily 30-minute Reading Recovery lessons are individually designed and individually delivered by specially trained teachers. Using a wide range of procedures, teachers make moment-by-moment decisions within each lesson to support the individual child.

Lesson Content
Each lesson consists of reading familiar books, reading yesterday's new book and taking a running record, working with letters and/or words using magnetic letters, writing a story, assembling a cut-up story, and reading a new book. The teacher creates opportunities for the child to problem solve and provides just enough support to help the child develop strategic behaviors to use on texts in both reading and writing.


Phonemic Awareness, Phonics, Spelling, Comprehension, and Fluency
Every lesson incorporates learning about letter/sound relationships. Children are taught to hear and record sounds and to work with spelling patterns. Reading Recovery encourages comprehension and problem solving with print so that decoding is purposeful and students read fluently.