Niche.com Ranks Jackson Local School District Among Best in Ohio
New Niche rankings have moved Jackson Local School District up among the best districts in Ohio and named us the No. 1 district in Ohio for student-athletes. Way to go Polar Bears! And thank you to our extended Jackson community for your support, always.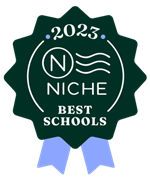 Niche.com helps to connect families with neighborhoods and schools. The website has in-depth profiles of all U.S. school districts and uses a ranking methodology for state and national ratings.
Jackson Local is among the top 6% of school districts in Ohio and the U.S. Jackson Local is the top-rated district in Stark County in Niche's rankings and it is among the top 12% for the best places to teach in Ohio.
In addition to the Niche.com rankings, for the fifth straight year, Jackson High School has earned a Great Schools College Success Award. The GreatSchools 2022 College Success Award means we are following best practices to prepare students for college success after high school.