Based on requirements from the Ohio Department of Health, the Jackson Local School District has to restrict ticket sales to athletic events to parents of those performing on game night, which includes student-athletes, band members, and cheerleaders. For those attending contests, a facial covering is REQUIRED to enter Robert Fife Stadium, Neitzelt Stadium, and any event in which Jackson High School or Middle School teams are competing. Those attending will have to sit 6 feet from other families in attendance, but family members from the same house may sit together.
For those attending an event in one of our venues, please familiarize yourself with our stadium/arena procedures. That information can be found here.
We also are changing our pathway to seats at Robert Fife Stadium. Please see the photo below to follow the proper protocol all home football games, starting Friday night against Lake.
Ticket office hours for parents purchasing football tickets are:
Tuesday/Wednesday 9-11 AM Door 1
Tuesday 6-7:30 PM Door 1
While we are disappointed we are not permitted to include more spectators, we will live stream all home football, soccer, and volleyball contests at JacksonLocalSports.com. There is no fee to watch these live streams. They are powered by Akron Auto Auction and the Law Offices of Winkhart & Minor and they can be viewed by going to JacksonLocalSports.com or our Facebook page or YouTube channel.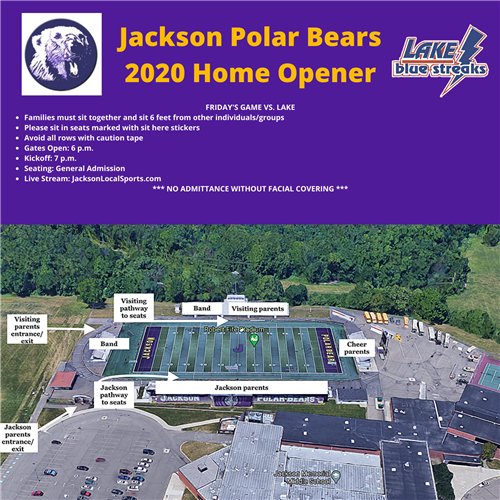 The reality of game nights during football season means there only are 1,050 seats available and 200 of those first are offered to the visiting team. That leaves 850 tickets for a pool of parents consisting of about 400 student-athletes, band members, and cheerleaders.
For varsity football games, all tickets are $7 and ONLY presale. Presale hours are Tuesday and Wednesday from 9 a.m. to 11 a.m. at Door No. 1 and Tuesday 6 p.m. to 7:30 p.m. Parents are encouraged to send money with their child to school to buy during the school day to keep pedestrian traffic into Jackson High School at a minimum. Anyone buying tickets must be wearing a facial covering.
During games at Robert Fife Stadium, fans will be required to sit between pairs of seats marked in the stadium. No one is permitted to sit on seats with yellow caution tape. Your cooperation is appreciated as we all do our parts to make sure student-athletes, band members, and cheerleaders have a season this fall.
For boys and girls soccer games at Neitzelt Stadium, tickets are sold only before the game at the gate. Parents of junior varsity players MUST leave the stadium after the junior varsity game, and not arrive until 30 minutes before the start of the game. Parents of varsity players will not enter the stadium until parents/spectators from the junior varsity game have exited the stadium. Varsity parents shall wait in their vehicles for the stadium to clear. There will be no congregating outside the entrance to the stadium. The seating capacity for soccer games is set at 120.
For volleyball contests at Jackson High School tickets are $6 and sold at the gate. Two tickets maximum per player.
We encourage parents to visit our webpage to become familiar with the plans, including what to do in the event of inclement weather outside. This information is available here.
There will be no congregating before or after events and anyone without a ticket will be asked to leave. Parents must exit the stadium immediately after the game and proceed to their vehicles.